Dread of Winter
Decades of intrigue and deception underlie Susan Alice Bickford's newest thriller, where crime, cover-ups, and long family histories converge in a storm of shattering violence . . .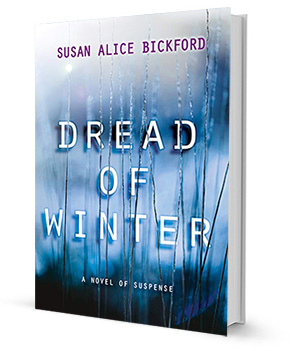 The remote town of Oriska, New York, hasn't been home for Sydney Lucerno in thirteen years. She's escaped the creeping addictions and long-simmering anger that are as much a part of the landscape as the bitter cold. But when she gets the call that her mother is dying, every secret and fear she left behind is waiting to welcome her back.
Two days later, her mother's lover is dead too. And Sydney's sworn to protect a half-sister she never knew she had, a prickly teenager named Maude, with an opiate habit and a bad-news family. But more lies and feuds are poised to spring from every once-familiar corner. The predators Sydney thought she'd escaped are threatening both her and Maude. To get free, Sydney will have to discover the truth about what happened when she left—and decide what should stay buried, deep in the unforgiving snow…
Buy Dread of Winter:
Reviews:
"There's so much to love in Susan Bickford's newest novel, Dread of Winter: a profound sense of place, the visceral evocation of a bitter winter's cold, a dead-on depiction of the pit of despair that is the opioid epidemic, and language so beautiful on the page it'll give you goosebumps. I'm a newcomer to Bickford's work, but I'm putting her on my list of must-read authors. You should, too."
—William Kent Krueger, New York Times bestselling author of This Tender Land
"Hard-edged, heartbreaking, and surprising, this compelling tale of sinister family secrets and continuing revenge will keep you turning the pages as fast as you can. Lisa Gardner meets Karen Slaughter—with the talented Susan Alice Bickford's unique storytelling. A do or die battle for survival—Dread of Winter is harsh, cold, and utterly riveting."
—Hank Phillippi Ryan, bestselling author of The Murder List
"Edge-of-your-seat suspense, set in a bitter landscape where  everyone assumes violence and drugs are a normal part of life—and that you have to risk everything to escape."
—Terry Shames, author of the Samuel Craddock mystery series
"From the first page, Dread of Winter grabs onto you and refuses to let go. Like a tongue frozen to a metal pole in frigid January. A harrowing, frostbitten sleighride through Central New York's most forbidding winter landscapes and drug-addled small-towns, this is a hard-driving, thrilling novel… Beautifully written in all its harsh coldness and murderous rage."
—James Ziskin, author of the Ellie Stone mystery series
"The plot packs plenty of twists… Bickford is a writer to watch."
—Publishers Weekly
---
Also Available: A Short Time to Die
2018 Left Coast Crime Best Debut Novel Nominee
In this electrifying debut by Susan Alice Bickford, two women from opposite sides of the country find their lives inextricably bound—by blood, by fear, and by a merciless, murderous revenge…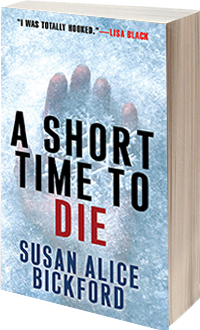 Walking home from a high school dance on a foggy autumn night in rural New York, Marly Shaw sees a flash of approaching headlights. A pickup truck stops and two men get out. One of them is the girl's stepfather. She runs. They follow. Minutes later, gunshots are fired, two men are dead, and one terrified girl is running—for the rest of her life…
Thirteen years later, human bones are discovered in the Santa Cruz Mountains of California. DNA tests reveal they belong to a mother and son from Central New York. Both have criminal records. Assault. Involuntary manslaughter. Maybe more. Santa Clara County Sheriff Detective Vanessa Alba wants to know how these backwater felons ended up so far from home.
Vanessa and her partner, Jack Wong, head to the icy terrain of the Finger Lakes to uncover the secrets of a powerful family whose crimes are too horrifying to comprehend. Whose grip over a frightened community is too strong to break. And whose twisted ideas of blood and honor are a never-ending nightmare for the one family member who thought she got away…
Reviews:
"Held me captive from the first page to the last."
—Taylor Stevens, New York Times bestselling author of The Informationist
"I couldn't have closed the cover if my life depended on it."
—Lisa Black, New York Times bestselling author of the Gardiner and Renner Thrillers
"Gripping."
—Publishers Weekly
"Disturbing, tough … fun to read."
—Utica Phoenix
"Chilling, and original."
—Eric Rickstad, New York Times bestselling author of the Canaan Crime Series novels
Buy A Short Time To Die: