Download this high resolution photo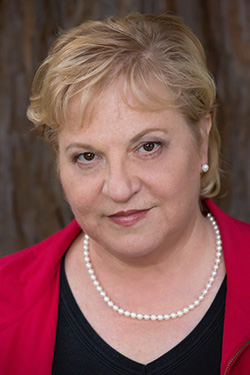 Download this high resolution photo
Publicity Contact:
Crystal McCoy, Communications Manager
Kensington Publishing Corp.
CMcCoy@Kensingtonbooks.com
212-407-1500
119 West 40th Street
New York, NY 10018
Bio:
Susan Alice Bickford was born in Boston, Massachusetts, and grew up in Central New York, the setting for many of her stories.
Eventually her passion for technology pulled her to Silicon Valley, where she held a wide range of diverse roles and became an executive at a leading technology company.
She is now a full-time author but continues to be fascinated by all things high tech. She is the President-elect of the Sisters in Crime Northern California Chapter and splits her time between Silicon Valley and her family's home base in Vermont.
Bickford writes thrillers and suspense stories that are deeply embedded in the rural areas of New York State and New England, featuring resourceful female protagonists.
Bickford's debut novel, A Short Time to Die, was published in 2017 and a was nominated for the 2018 Left Coast Crime Best Debut Novel. Her second novel, Dread of Winter, will be released in October 2019. Her short stories have appeared in the anthologies Fish Out of Water and Fishy Business.
Map:
This is a wonderful postcard created by Kristin Bailey showing the place where I spent most of my life, including my childhood. The numbered balls show places where I grew up, locations in A Short Time to Die, and locations in Dread of Winter. Click here to get the PDF.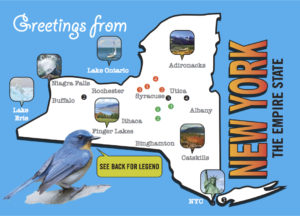 Review Quotes:
Dread of Winter:
"There's so much to love in Susan Bickford's newest novel, Dread of Winter: a profound sense of place, the visceral evocation of a bitter winter's cold, a dead-on depiction of the pit of despair that is the opioid epidemic, and language so beautiful on the page it'll give you goosebumps. I'm a newcomer to Bickford's work, but I'm putting her on my list of must-read authors. You should, too."
—William Kent Krueger, New York Times bestselling author of This Tender Land
"Hard-edged, heartbreaking, and surprising, this compelling tale of sinister family secrets and continuing revenge will keep you turning the pages as fast as you can. Lisa Gardner meets Karen Slaughter—with the talented Susan Alice Bickford's unique storytelling. A do or die battle for survival—Dread of Winter is harsh, cold, and utterly riveting."
—Hank Phillippi Ryan, bestselling author of The Murder List
"Edge-of-your-seat suspense, set in a bitter landscape where  everyone assumes violence and drugs are a normal part of life—and that you have to risk everything to escape."
—Terry Shames, author of the Samuel Craddock mystery series
"From the first page, Dread of Winter grabs onto you and refuses to let go. Like a tongue frozen to a metal pole in frigid January. A harrowing, frostbitten sleighride through Central New York's most forbidding winter landscapes and drug-addled small-towns, this is a hard-driving, thrilling novel… Beautifully written in all its harsh coldness and murderous rage."
—James Ziskin, author of the Ellie Stone mystery series
"The plot packs plenty of twists… Bickford is a writer to watch."
—Publishers Weekly
"The big story here is the knotty relationship between the two sisters bound together by blood and uncomfortable personal similarities they'd both prefer to deny… Hearts thaw slowly but rewardingly amid subzero temperatures and hard-won bromides about drug abuse."
—Kirkus
A Short Time to Die:
"Held me captive from the first page to the last. Vivid settings and strength of character kept me reading late, late into the night, to an ending I never expected."
—Taylor Stevens, New York Times bestselling author of The Informationist
"Bickford's tale of revenge, the dark reach and power of generational crime and violence, and of two brave and bright girls who become capable, fearless women is gripping, chilling, and original. Add in a keen, exacting eye for character and place that transcends 'genre' and A Short Time to Die is sure to stay with you for a long, long time."
—Eric Rickstad, New York Times bestselling author of The Silent Girls and Lie in Wait
"I couldn't have closed the cover if my life depended on it."
—Lisa Black

"Gripping."
—Publishers Weekly
"Disturbing, tough… fun to read."
—Utica Phoenix